A quick step-by-step guide to secure your own place on the Cardano blockchain.
Requirements
Cardano Shelley wallet
You will need a Shelley era Cardano wallet. We suggest the use of one of the following wallets:
If you are not familiar with the setup process, take a look at the instruction steps that we have prepared.
Owning ADA
Since the payment is done in ADA cryptocurrency, you will need to have it in your wallet.
If you currently don't have any ADA, please see our guide on how to get it to your wallet.
Buying process
1. Go to presale URL
The presale link will be published on the date of the presale, on Twitter, Discord and here.
Link : https://presale.adadomains.io/
2. Make a reservation
The webapp for presale will require you to enter the desired domain, select the country of origin and confirm that you have read our Terms of Use. Once this is filled, you will have the option to click Reserve which will reserve your domain for 10 minutes.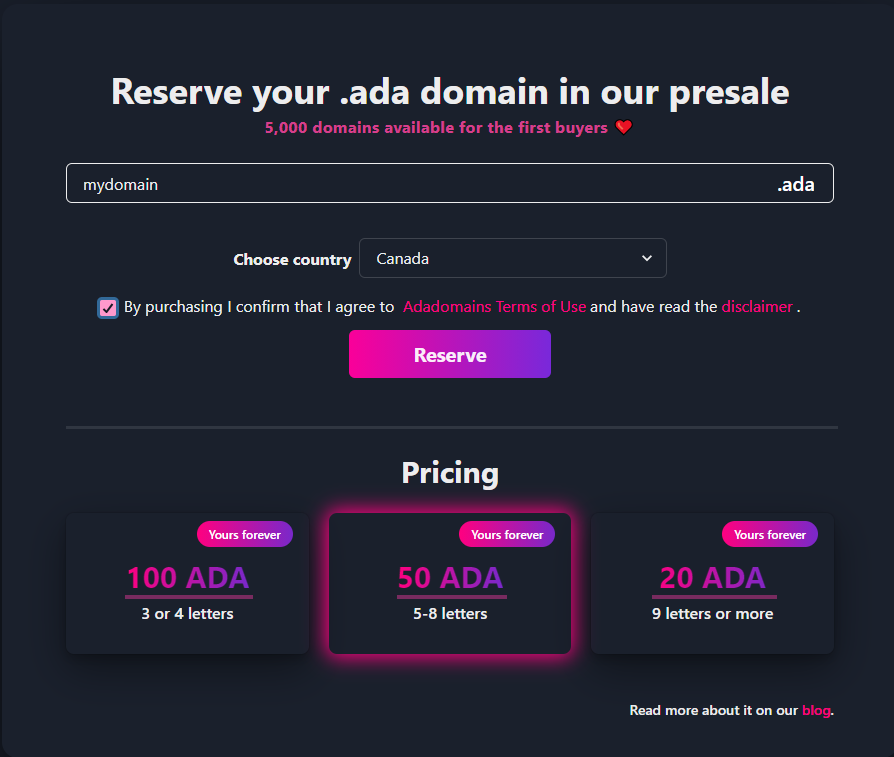 3. Execute payment
On the reservation page, you will see the payment address and the amount of ADA you are required to send.
Send exactly the requested amount of ADA to our payment address.
Once your transaction is processed, the domain token will be delivered to your wallet.
Here is a quick demonstration video on how to pay for your reservation